Phonics
Context
We are currently transitioning to Pearson 'Bug Club' to teach our synthetic phonics.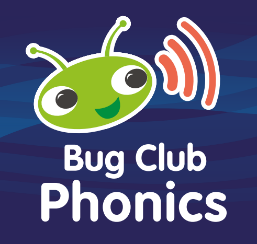 At Harlands we firmly believe that 'every child is a reader'. We believe in giving all children the support and challenge that they need to succeed; we believe that reading will enable this. Our "Golden Threads" include Community, Choice and Creativity. Through our careful, systematic approach to phonics we aspire to facilitate a school community of confident and passionate readers who feel empowered to choices about what they read and to have their imaginations ignited. The more we can encourage our children to read, the more worlds they will be exposed to and, as Margaret Fuller (the pioneering American writer) famously said, "Today a reader, tomorrow a leader."
Intent
Bug Club Phonics is one of the Department for Education's approved phonics teaching programmes and aims to help our children learn to read by the age of six in a fun and accessible way. Following its own proven progression, the whole school programme matches the National Curriculum and Early Learning Goals. Children begin phonics as soon as they enter Early Years. Phonics is taught daily through a systematic approach. Children are taught within their class and any additional support required is delivered in small groups.
Implementation
In our Early Years classes children begin by developing an awareness of sounds through stories, rhymes and games. They quickly move on to learn the links between individual letters and their sounds. There are 44 different sounds to be learnt and again these are taught in a systematic way throughout Early Years and Key Stage 1 - with teachers regularly assessing children's progress to check where they are and what they need to learn next.
Within Early Years and Key Stage 1 classes, phonics is taught discreetly in a daily session. Children then apply their new skills when reading books from the Phonics Bug Club scheme, which match the letters and sounds that they have previously learnt. From September 2022 the children will also be able to access books, games and activities through individual accounts accessed through a Bug Club App.
Impact
Reading stimulates children's imaginations and expands their understanding of the world. The ability to read and write confidently underpins many areas of a child's education. At Harlands our aim is to ensure that all of our children are provided with the teaching and opportunities needed to ensure that they are confident in their understanding and application of phonics.